HARRISBURG – Senator David G. Argall (R-Schuylkill) has been appointed by Senate President Pro Tempore Joe Scarnati (R-Jefferson) to serve as Chairman of the Senate Urban Affairs and Housing Committee.
"I'm very pleased to appoint Senator Argall as Chairman of the Urban Affairs & Housing Committee," said Scarnati. "His extensive experience working on issues related to urban blight and community revitalization will be a tremendous asset in leading this important committee in the next legislative session."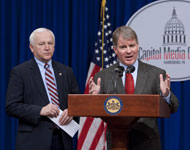 Argall served as Vice Chairman of the Senate committee last session. "The issues are the same: Jobs, jobs, jobs," said Argall. "My goals for the committee are simple: We will take a proactive approach to seek ways to revitalize our downtowns and our neighborhoods to encourage job growth in communities large and small."
Argall noted the Committee's past successes, including Act 90, The Neighborhood Blight Reclamation and Revitalization Act, which Argall sponsored, along with the new Land Bank Law and the downtown location law for state offices. One local newspaper has called Argall's law "a potent array of weapons to use against absentee landlords who abandon properties and their responsibilities."
"Many of us have declared a new war on blight," said Argall. "Blight is a problem whether you live in Philadelphia or New Philadelphia. I know that there are good tenants and bad tenants, good legislators and bad legislators, and good landlords and bad landlords. At a recent conference, I noted the request of many local residents who have asked me to go after 'slumlords' through stiffer penalties. Newspaper headlines continue to illustrate that we have a real problem in our region—too many properties in need of demolition and not enough money. My goal is to find a solution to this problem affecting our state."
Mary Luscavage, Main Street Manager of Downtown Shenandoah, Inc. expressed her eagerness to work with the new chairman to improve local communities.
"Having Senator Argall as Chairman of the Senate Urban Affairs and Housing Committee will certainly help the Upper Schuylkill area," said Luscavage. "It will enable us to get the guidance and help we need. It will also afford us the opportunity to continue with our Downtown Shenandoah Revitalization efforts and successes. This appointment encourages job growth and gives us more tools to fight blight. We look forward to working with Senator Argall on these issues."
"I look forward to working with neighborhood and downtown advocates to eliminate these horrible eyesores, promote responsibility by absentee landlords and make Pennsylvania communities a stronger place to live, work and raise a family," said Argall.
Argall's chairmanship will officially begin on January 1, 2013, the start of the 2013-14 legislative session.
Contact: Jon Hopcraft
(717) 787-2637
(570) 773-0891