HARRISBURG – Senate Urban Affairs & Housing Committee Chairman David G. Argall (R-29) held a public hearing this morning to listen to both sides of the debate surrounding a proposal dealing with vacant property.
Chairman Argall said the committee needs to hear both pros and cons behind the proposal prior to considering it for a vote.
The proposal's sponsor, Senator Anthony Williams (D-8), testified that his bill would define a landlord's liability in instances when a tenant vacates a rental unit and leaves behind personal belongings.
"As current law holds, owners of a property must now endure significant expense and entanglement within the judicial system as well as the sheriff's office," Williams said.
Williams told the committee that the burdensome process to dispose of belongings is expensive and unnecessary. "I'm sure you would agree that this is a cumbersome and expensive set of obligations to undergo just to legally dispose of some beat up furniture," Williams said.
Williams pointed out that his bill has a narrow scope and provides a standard process for landlords.
The committee heard testimonies from a panel opposing Williams' Senate Bill 48.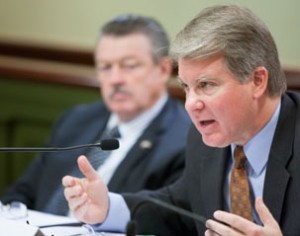 Housing Alliance of Pennsylvania's Policy Director Cindy Daley led off by providing examples where the proposed law avoids a neutral third party. "There needs to be an impartial third party – a judge – in resolving these disputes."
Daley praised the committee for being actively engaged in finding solutions for the fight against blight and vacant properties.
Testifying with the Housing Alliance, Phil Lord, Executive Director of the Tenant Representation Union Network, spoke about specific instances where the proposed law could hurt tenants. "This bill will make it easier for landlords to clean out a vacant unit at the end of a lease," said Lord. "It will also make it easier for landlords to evict tenants who complain about repairs."
Members representing the Pennsylvania Residential Owners Association (PROA) and the Pennsylvania Apartment Association testified in support of Williams' proposal.
Rita Dallago, Executive Director of PROA, said the bill is a commonsense approach to a problem not addressed in Act 129. "We still have instances when a tenant vacates a unit without notice, leaving no forwarding address, has taken food, clothing, toiletries and most furnishings," Dallago said. "This situation is not specifically defined in Act 129."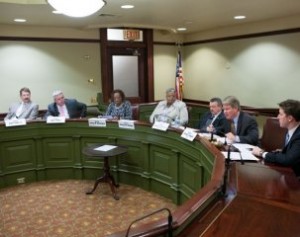 Christine Young Gertz offered the perspective of larger residential units through her association, the Pennsylvania Apartment Association. "It makes no sense to require an entire evictions proceeding when the resident is already gone for good."
Both associations discussed the costs associated with the current process, stating that it falls on their current and new tenants.
Chairman Argall said he will talk with all of the Senate committee members about the legislation prior to considering it for a vote before the committee.